New Study on Acute Gastroenteritis in Care Homes
Tue, 07 Nov 2017 12:55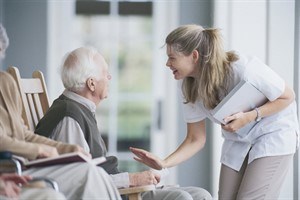 © Getty imagesNoroviruses are the leading cause of acute gastroenteritis in all age groups, but illness is more severe and causes excess mortality in the elderly, particularly those in long-term care. The total burden of norovirus disease in the elderly in the UK is poorly defined; no current surveillance programmes systematically or accurately quantify norovirus infection in those living in care homes. The aim of this study is to evaluate an enhanced surveillance system for acute gastroenteritis among the elderly in care homes.
This study cuts across many of the HPRU GI themes including People, Places and Pathways with HPRU GI PhD students Thomas Inns and Anna Pulawska-Czub and HPRU research Dr John Harris collaborating to run this study.
The team will conduct this prospective cohort study in care homes in North West England; residents and staff at study care homes will be asked to participate. They will prospectively enrol a cohort of participants in an enhanced surveillance system to capture the incidence of acute gastroenteritis and use multiplex PCR to detect pathogens. The team will sample symptomatic and non-symptomatic participants to understand characteristics of norovirus disease and susceptibility to infection. They will generate novel data on transmission dynamics by collecting data on the pattern of interactions within care homes using electronic proximity sensors. Comparisons of outbreak and non-outbreak periods will be used to quantify the impact of norovirus outbreaks on care homes.
This study will provide detailed insight on the burden and aetiology of acute gastroenteritis in care homes, in addition to generating novel data on transmission dynamics and risks. The study will identify areas for improving infection control practice and allow more accurate modelling of the introduction of interventions such as vaccination.
For the full article, entitled: 'Prospective cohort study to investigate the burden and transmission of acute gastroenteritis in care homes: a study protocol', see the November issue of: BMJ Open.