Governance
The organisational structure has been designed to ensure that the strategy, research, capacity building, stakeholder engagement, value for money and impact on health protection delivery are all subject to regular, robust scrutiny.
Organisational Chart for the NIHR-HPRU in Gastrointestinal Infections: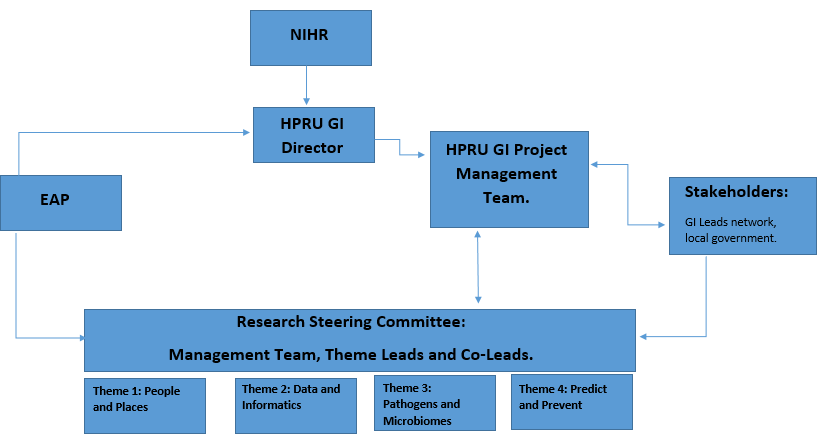 HPRU GI Management Team:  Day to day management is carried out by the HPRU Management Team comprising of the HPRU GI Director (Cunliffe), HPRU GI UK Heath Security Agency Lead (Vivancos), University of Warwick Lead (McCarthy), Patient Involvement and Engagement (PPIE) lead (Staniszewska), Knowledge Mobilisation (KM) lead (Oyebode), Training lead (Clough) and a full-time Project Manager (Cooper).
Steering Committee: Comprising of all Theme Leaders, Co-Theme Leaders (from the UK Heath Security Agency and Partner University), Postdoctoral and PhD Student representatives, UK Heath Security Agency GI Leads Network representatives, Public Contributor representatives with the HPRU GI Management Team, the Steering Committee meets quarterly to guide scientific strategy and monitor existing projects and the overall scientific portfolio.
Theme Leaders: Are accountable for progress towards the aims and objectives of their themes. They will oversee their research portfolios and the progress of individual projects. Theme Leaders organise meetings (face to face or via tele-/video-conference) with the researchers in their theme and report progress to the Research Steering Committee and External Advisory Panel.