Community-based surveillance of norovirus disease: a systematic review
Fri, 29 Sep 2017 09:05
Norovirus is a common cause of infectious gastrointestinal disease. Despite the increased ability to detect norovirus in affected people, the number of reported cases and outbreaks in the community is still substantially underestimated. Five members of the HPRU GI, including PhD student Thomas Inns and researcher Dr John Harris, undertook a systematic review to determine the nature, scope and scale of community-based surveillance systems which capture information on norovirus disease.
We searched MEDLINE, EMBASE and Scopus for studies published between 01 January 1995 and 31 December 2015, using terms relating to norovirus and surveillance. Outcomes were descriptions of the methods reported in included papers, and any estimates of incidence rate of norovirus disease in each community, stratified by age.
There were two estimates of norovirus hospitalisation; 0.72 and 1.04 per 1000 person-years. Estimates of norovirus disease ranged between 0.024 cases per 1000 person-years and 60 cases per 1000 person-years and estimates of all gastroenteritis varied between 49 and 1100 cases per 1000 person-years.
Our systematic review found few papers describing community-based surveillance for norovirus disease. Standardised age-specific estimates of norovirus incidence would be valuable for calculating the true global burden of norovirus disease; robust community surveillance systems would be able to produce this information.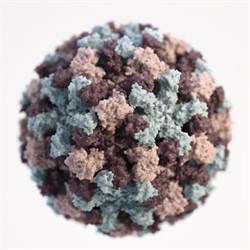 A 3D graphical representation of a single
norovirus particle. The different colors
represent different regions of the organism's
outer protein shell. Credit: CDC
For the full article, entitled: 'Community-based surveillance of norovirus disease: a systematic review', see the: BMC Infectious Diseases Journal.